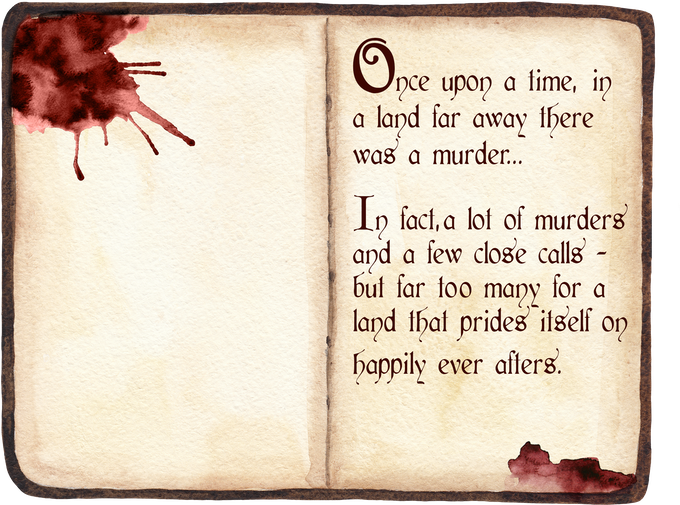 The Fairy Tale Files are lighthearted murder mystery detective games inspired by iconic fairy tales. We bring you the delight of your favorite childhood stories with an adult twist! Join the Magical Mishaps Agency to solve the clues and find the killer!


The Fairy Tale Files are immersive escape room style experiences in which you interact with physical game components and also chat with characters, suspects, and witnesses in real-time to solve the case!
As an investigator at the Magical Mishap Agency, you are called upon to shine light on crimes and other strange events troubling this faraway land.
The Experience: you receive a case packet in the mail - review the crime files, dispatch your team to the crime scene to uncover evidence, break locks, solve puzzles, and send the culprits to rot in the Fairy Land dungeons!
As the case takes shape, you'll get immersed in the rich and surprising stories that unfold!

In each game, you receive a file that covers the known facts of the case. Included are:
- At least ten physical paper documents to inspect along the course of the case.
- Puzzles to unlock and mysteries to solve
- A web-based messaging portal to talk to your Magical Mishaps Agency team in real-time
- Re-packing instructions so you can give the game to a friend or re-sell it
- Magic Mirror hint system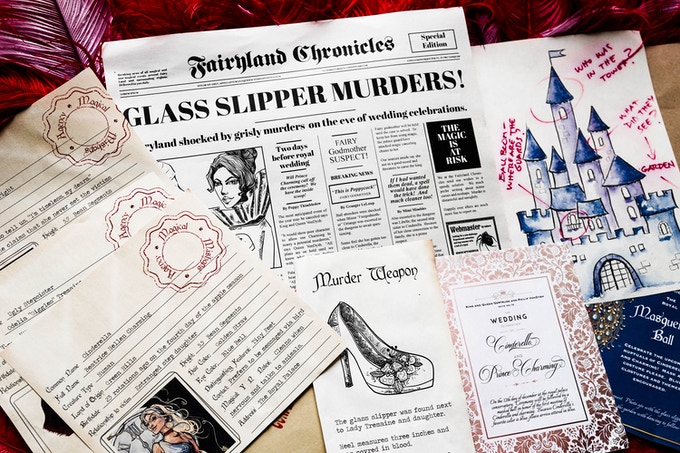 A sample from The Cinderalla Murders game
The Messaging Portal: An integral part of the game is interacting with your Magical Mishap team on the ground in Fairy Land. These interactions with the characters are powered by the industry-leading AI messaging system developed for the Society of Curiosities games.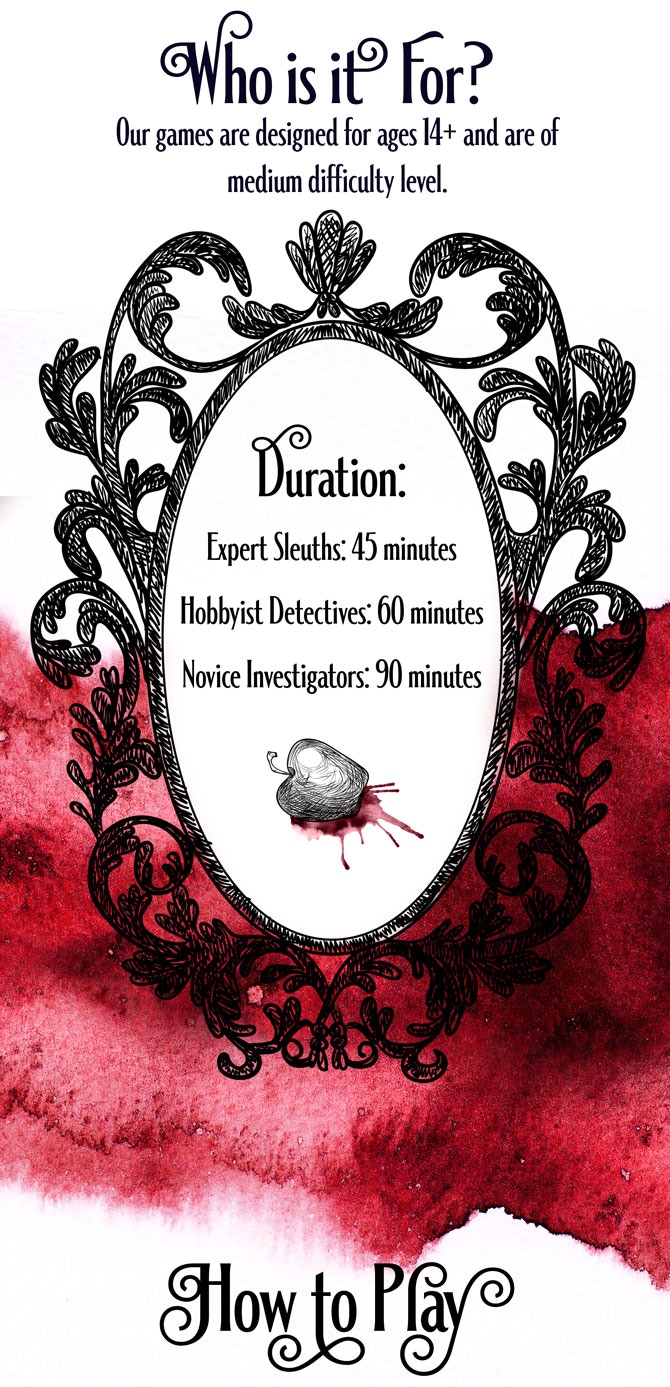 It's easy: there are no rules! Just open up the game and play!
In each game, you will have a file from the Magical Mishaps Agency with the evidence that has been gathered so far.
Review the evidence to find the culprit or eliminate suspects.
Use the agency messaging portal to send your team to the crime scene, converse with your team and suspects, and learn more about the case.
You will need an internet-connected mobile phone or computer to direct your crime scene team and interrogate the suspects and witness.
Consult our Magic Mirror for hints as often as you want. We leave you little breadcrumbs of hints. There are a lot! This way, if you've lost your path, you can get back on track to solving the mystery.

The award-winning team
We're Michelle and Yacine and we are the creative minds behind Society Of Curiosities and Kauai Escape Room. We've been creating escape games and mystery games since 2015.
Kauai Escape Room was ranked a Top 100 escape room in the world in 2019!
Society Of Curiosities launched in 2020 and has already published 5 adventures to great acclaim in the mystery game industry!
How we got started
We got into the game and puzzle industry the old-fashioned way: by accident!
We played an escape room in 2015 in Montreal and loved it. So we played a few more. Soon, we were designing puzzles and building full-scale escape rooms for our friends in our home and 30-foot airstream trailer.
Eventually, Michelle made the suggestion to go commercial and open a physical escape room business. Yacine didn't think it was such a great idea but agreed to set up a fake website with fake escape games "to prove her wrong".
Of course, she was right.
Within a few days, people were finding the fake website and trying to book our fake escape games! Fast-forward a few months and Kauai Escape Room opened its doors.
Over the last 5 years we have designed and built 10 escape games and also created and launched 5 play-at-home mystery games.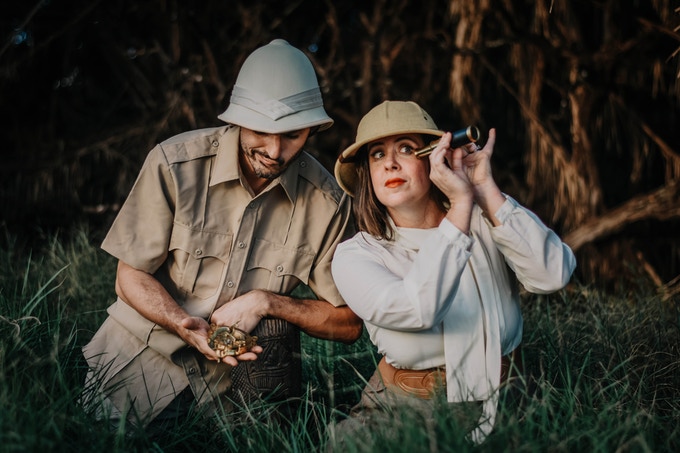 Yacine Merzouk
Yacine has been a tabletop and strategy game enthusiast and designer since high school.
This hobby culminated into a few years running an award-winning D&D blog, the publication of 2 RPG books, and a stint freelancing for Wizards of the Coast.
From there, it was a natural jump to take these storytelling skills to the escape room and mystery game worlds.
He enjoys long walks on the beach with his dog and generally has a tendency to adopt too many pets from the Humane Society.
Michelle Rundbaken
Michelle is a master storyteller and the driver of the artistic vision for our games — always polishing minute details of the stories and adventures she designs for her audience.
She channels her background in psychology, education, and film to craft delightful experiences and puzzles that are challenging but never overstay their welcome.
Five years of escape room design taught her there's always room for a sprinkling of magic and delight.
Her ideal day consists of reading in bed with a steaming cup of tea. Cuddling a cat is a bonus.

Top 100 escape rooms in the world
The game design team of The Fairy Tale Files received a Top 100 Escape Room In The World award for their creations at Kauai Escape Room.
Reviews of our other games
Read the Society of Curiosities reviews from Esc Room Addict, Escape Mattster, ESCAPETHEROOMers, Escape Adventurer, Escape The Review, Review The Room UK, Armchair Escapist, and Escape Mattster (again).
Read the Kauai Escape Room reviews 5★ on Google, 5★ on Yelp, 5★ on TripAdvisor, and 5★ on Facebook.
Podcast interviews - listen to Yacine and Michelle discuss game design:
ESCAPETHEROOMers presents: Behind the Masterminds
The Puzzlemaker: Experience Design - Novelty, Narrative and Surprise
Shipping will be added on AFTER the Kickstarter concludes.
We ship to all countries, but please note that the games are only available in English.
--

RATES FOR SINGLE GAME
If you backed a single game, or if you choose to have the games shipped as they are released, these are the shipping options for each shipment.
USA, with tracking - $3.50
Worldwide, with tracking - $10.50
Worldwide, without tracking (regular mail) - $4.50
--
RATES FOR 4-GAME PACK
If you choose to have all 4 games shipped together, they will ship as the last game is released, which is estimated to be November 2021.
USA, with tracking - $5.70
Worldwide, with tracking - $15.95
--